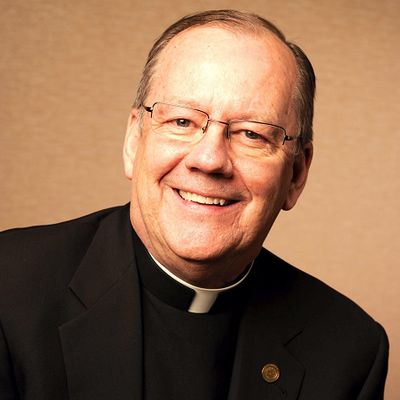 Paulist Father John Hurley is a native New Yorker, raised in Manhattan, the Bronx and Huntington, Long Island. He entered the Paulists in 1970 and was ordained in 1977 by Servant of God, Terence Cardinal Cooke. He graduated with a BA in Religious Education from the Catholic University of America, a Master of Divinity degree from the Washington Theological Union and a Doctor of Ministry degree from the Jesuit School of Theology in Berkeley.
During his first assignment he founded the Paulist Center for Catholic Evangelization in Portland, Oregon in 1979. His other community assignments include pastor of historic Old St. Mary's Cathedral in San Francisco, Administrator of St. Austin's Church in Austin, Texas, Executive Director of Financial Development, Director of Paulist Reconciliation Ministries, Coordinator of Strategic Planning and over twenty years of service on the Paulist General Council.
He has also taken the Paulist charism to serve the Church across the United States and beyond. He is the former Executive Director for the United States Conference of Catholic Bishops' Secretariat for Evangelization, where he served for almost nine years, the National Pastoral Life Center in New York City and from 2010-2014, the newly established Department of Evangelization for the Archdiocese of Baltimore. While in Baltimore, he co-chaired the first three Mid-Atlantic Congresses for Catholic Leaders. He also served as a consultant to the US Bishops' Committee on Evangelization and Catechesis from 2008-2014.
In May 2014, Fr. Hurley launched New Evangelization Strategies. This national Paulist ministry, based at Old Saint Mary's Cathedral in San Francisco, assists Pastoral Leaders, Councils and Staffs and Catholic ministries in creating a new paradigm for the sake of the mission entrusted to the Church as Jesus' disciples. Other outreaches include serving as an instructor in the Academy of Church Leadership at Santa Clara University from 2014-2017, Vicar for Evangelization in the Diocese of San Jose from January 2017 through June 2019, and coordinating two San Diego Diocesan Synods in 2016 (Embracing the Joy of Love) and 2019 (Young Adult Synod). He continues to serve as a consultant to Sadlier Publishing and is a member of the Leadership Roundtable's Catholic Leadership 360 team. And, he is a certified Spiritual Director.
Fr. Hurley speaks on evangelization and discipleship before parish, diocesan and national church leadership through keynote addresses, workshops, parish missions and retreats in dioceses all across the United States. During the Jubilee Year of Mercy, Fr. Hurley was commissioned by Pope Francis to be a Papal Missionary of Mercy which was renewed after the Jubilee Year.
Personal Background
Born in New York City (Manhattan)
Raised in Manhattan, Bronx and Huntington, New York
Professed as a member of the Paulists, September 11, 1971
Ordained priest by Terence Cardinal Cooke in New York City, May 14, 1977
Education
Academic:
Graduated 1983, Jesuit School of Theology, Berkeley, CA

Degree – Doctor of Ministry (D.Min.)

Graduated 1978, Washington Theological Union, Washington, D.C.

Degree – Master of Divinity (M.Div.)

Graduated 1973, Catholic University, Washington, D.C.

Degree – Bachelor of Arts in Religious Education  (B.A.)

Graduated 1970, St. Joseph College of Florida, Jensen Beach, FL

Degree – Associate of Arts (A.A.)
Professional:


Certified Spiritual Director
Certified Facilitator, Leadership 360, Center for Creative Leadership
Certified Facilitator, Leadership 360, Leadership Roundtable
Certified Consultant, Catholic Standards of Excellence, Leadership Roundtable
2016-Papal Missionary of Mercy, appointed by Pope Francis during the Jubilee Year of Mercy and renewed indefinitely by Pope Francis.
2014- Consultant and Missionary, New Evangelization Strategies, San Francisco Bay Area, California
2016-2019

Vicar for Evangelization, Diocese of San Jose, California

2010-2014 Executive Director, Department of Evangelization, Archdiocese of Baltimore, Maryland
2009-2010 Administrator, St. Austin Church, Austin, Texas
2007-2009 Executive Director, National Pastoral Life Center, New York City
2006-2007 Founding Director, Paulist North American Office for Reconciliation, Washington, DC

2005-2006 Special Assistant to the Paulist President for Strategic Planning, New York City
1997-2005 Executive Director, Secretariat for Evangelization, U.S. Conference of Catholic Bishops, Washington, DC
1991-1997 Pastor/Superior, Old Saint Mary's Cathedral, San Francisco, California
1984-1991 Executive Director for Financial Development, The Paulist Fathers, New York
1978-1984 Founding Director, Paulist Center for Evangelization, Portland, Oregon
1977-1980 Associate Pastor, St. Philip Neri Church, Portland, Oregon
1976-1977 Deacon, St. Philip Neri Church, Portland, Oregon
2022-Member, National Community of Catechetical Leaders
2022-Member, Spiritual Directors International
2022- Consultant, San Jose Diocesan 2023 Synod Steering Committee
2021- Consultant, San Diego Diocesan 2023 Synod Commission and Steering Committee
2016- Papal Missionaries of Mercy USA Steering Committee
2016- Catholic Leadership 360 team member of the Leadership Roundtable
2010- Consultant, William H. Sadlier Inc.
2007-Member, National Leadership Roundtable
2007-2021 Member of National Conference of Catechetical Leadership
2010-2021 Member, Paulist Reconciliation Ministries Board
2010-2021 Member, Landings International Advisory Committee
2019-2020 Coordinator, Diocese of San Diego, San Diego Diocesan Young Adult Synod
2014-2017 Adjunct Faculty, Academy of Church Leadership, Santa Clara University
2015-2016 Coordinator, Diocese of San Diego, Embracing the Joy of Love Synod
2014-2016 Consultant, Diocese of San Jose, Office of Evangelization
2010-2014 Co-chair, Mid-Atlantic Congress for Catholic Leaders
2008-2014 Consultant, USCCB Committee on Evangelization and Catechesis
2002-2010 Member, Paulist General Council
2006-2009 Coordinator, Paulist Capital Campaign
2006-2007 Member, Paulist Strategic Planning Committee
2003-2005 Founding Chairman, Paulist Board for Financial Development
2000-2005 Coordinator, U.S. Commission on Catholic Evangelization
1998-2004 Consultant, USCCB Department of Education, Committee on Catechesis
1997-2002 Founding Chairman, Paulist Media Works Board of Directors
1997-2001 Consultant, USCCB Secretariat for the Jubilee 2000
1993-1994 Chair, Seismic Safety Retrofit Program Board, City and County of San Francisco
1992-1996 Member, National Catholic Development Conference, Board of Directors
1992-1995 Member, Priests' Council; Archdiocese of San Francisco
1991-2010 Member, Paulist Board of Financial Development
1991-1997 Founding Member, San Francisco Interfaith Council, Board of Directors
1991-1997 Chair, San Francisco Interfaith Council, Seismic Safety Committee
1991-1992 Chair, Annual NCDC Convention in Atlanta, National Catholic Development Conference
1991-1992 Member, Archbishop's Annual Appeal Committee, Archdiocese of San Francisco
1990-1995 Member, Board of Directors, National Catholic Development Conference
1988-1991 First President, Graduate Association, Washington Theological Union
1987-1997 Member, National Society of Fund Raising Executives
1986-1998 Member, Paulist General Council
1984-1997 Member, National Catholic Development Conference
1985-1995 Charter Member, National Planned Giving Association
1986-1988 Member, Paulist Media Concerns Committee
1978-1984 Member, Ecumenical Ministries of Oregon
1975-1976 Chair, Washington Theological Consortium Student Board
1975-1976 Chair, Washington Theological Union Student Board
1974-1976 Member, Washington Theological Consortium Student Board
1974-1976 Member, Washington Theological Union Student Board